Past President Margaret's Welcome
My name is Margaret Griffin, and I took over the Presidency of the Club in June 2018 from outgoing President Sharon Jordan.
I'm very honoured to be President this year - and Rotary's official motto "Service before Self" resonates strongly with my life. I'm also proud to be the Club's second female President. I hope to continue to promote the aims and objectives of Rotary for the benefit of our community and members and those that we support through our activities.
I hope during this year to emphasise the fun and fellowship that are key to our Rotary Club (and Rotary the world over) - and very much hope that we shall broaden our activities to enable this to happen. We'd like to encourage people to learn more about what we do through our website, social media and of course our Members.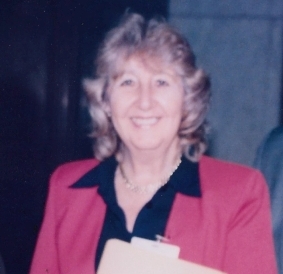 I write this at the start of my year, and I can see we have a busy year ahead. In August our Club will be hosting a 'Mini Group Study Exchange' for young people. This is a collaboration among the five European Rotary clubs that make up 'Pentangular' and allows a selected group of young people to learn more of each other and their countries in the spirit of global understanding.
In September we will hold our Annual Duck Race at Westgate Gardens, which will be unusual this year because the Rotary District Conference 'Engage' will be held in Canterbury at the same time. We're hoping that other Clubs will get involved. Seeing all the yellow rubber ducks along the river should be a great spectacle that's fun for all the family!
In October we will host fellow Pentangular Club St Quentin, and in October/November we will be supporting the British Legion with its annual Poppy Appeal. In the build up to Christmas we shall, as last year, be supporting the Lord Mayor of Canterbury's Christmas Gift Fund with the charity's street collection. The Fund is a local charity, run by local people, for the benefit of local Canterbury residents.
This year I will also be hosting a number of Guest Evenings – these are an opportunity for Members to bring family and friends along to enjoy a special evening of entertainment. Each event also raises funds for the charities we support. I'm also keen to get more closely involved with young people.
There are also a number of other events in discussion – we will tell you all about them when they are finalised.
For those who are unfamiliar with our Club, we have three main Committees – Community Service, International and Vocational. All will be busy during the year with their respective activities. You can read about our news in the news section of this site, but if you're on Facebook and Twitter please also follow our activities on there.
Our Members meet weekly, usually at the Kent & Canterbury cricket ground here in Canterbury – it's an excellent chance for us to socialise, exchange ideas and plan activities. We also have many inspirational and interesting guest speakers come and talk to us.
My three chosen charities for this year are Porchlight, Juba Diocesan Secondary School, and Canterbury Food Bank. Porchlight and Canterbury Food Bank are both wonderful charities that do great work in our local community. I have had long ties with the School in Juba and our Members have supported students out there; with my background in Education it seemed natural to continue this support. It's remarkable to follow how well the youngsters are doing. We will try and keep you posted about our activities in relation to these three charities with our articles.
We will, as usual, also continue to support other local, national and international charities throughout the year. Remember, we don't always just give our support with money; as an example, we've supported St Nicholas School over the past few years, helping them give their youngsters special experiences.
Please do give generously when you see our hard working Rotarians out with their cans. Like so many other charitable groups, everyone is a volunteer. Also, if you happen to see our bright yellow 'Wishing well', do spin a coin (or few). Maybe your wish will come true, and maybe with the funds we raise we can help someone else's wish come true as well.
Thank you for reading this, do support us when you can. We are always grateful to members of the public who help us to help others.
Yours in Rotary
Dr Margaret Griffin
Rotary Club of Canterbury President, 2018-2019.
If you are interested in joining our great club, or want more information
about Rotary, in general, click HERE for our contact details.