The committee is keen to help people of all ages, children, adults and the elderly particularly in the case of disability. Grants to assist with particular projects are made to charities, organisations and individuals with a strong local Canterbury connection. In addition to financial support the committee provides hands on support with selected health promotion activities and we have a long-term relationship with St Nicholas School taking a party on an annual visit to a local zoo or similar venue. Some examples of recent activities will give a flavour of our activities.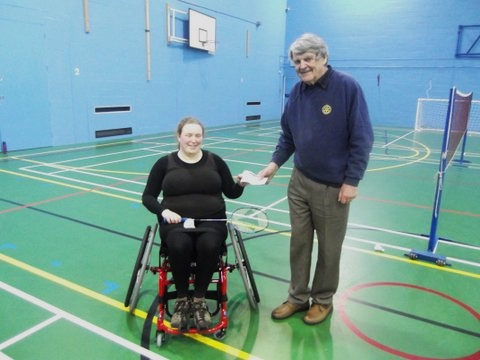 One of the most recent examples, shown above, was John Hill presenting Rachel Bowen with a cheque for £500 from the Community Service Committee as a contribution towards the total cost of a specialized wheelchair enabling her to play wheelchair badminton.
Rachel has a neurological disability preventing her from moving her lower limbs. This does not prevent her taking part in wheelchair sport and she and a partner are setting up a wheelchair tennis facility locally and participating in a national badminton tournament shortly. She works at Canterbury Christchurch University and has raised the rest of the money for the chair doing a research job on handbikes.

John attended a training session recently and Rachel offered him a game, also in a wheelchair, but having seen the speed with which she manoevred hers, decided that his temporary disability precluded him accepting the challenge.
Roper House Canterbury (Action for Hearing Loss)
In August the Committee assisted the residents with a grant of £400 to supply art materials for their Art Studio. Participation in creating art in many different forms is an important form of therapy for people with a severe loss of hearing. More recently the Community Service Committee has reached out to Roper House to fund a visit to the Reindeer Centre at Bethersden. Click HERE to read the visit report, then use your Back button to return here.

Mobile Chemotherapy Unit
Last year the Committee contributed funds to the setting up costs of a mobile chemotherapy unit which is based at the Kent and Canterbury hospital and travels around East Kent providing chemotherapy services for those who would have long distances to travel. The Unit commenced giving treatments in Hythe and Herne Bay from early November last year and added Whitstable and Dover this year.

Worthgate Scouts Hut, Wincheap Canterbury
The Worthgate Scout Hut Serves about 80 Cubs and Scout at their weekly meetings as wellas other community groups. The building suffered considerable rain damage last Christmas with water entering around the old rotted wooden window frames. The Scouts commenced fundraising to have the old window frames replaced and requested some assistance from the Rotary Club of Canterbury. The Committee was pleased to help with £500 towards the replacement frames. This grant is an example of our mission to help young people in the Community and others with good facilities for their after school activities.

But we don't just provide money to local organisations or individuals in need. The Club has barbecue equipment and a coconut shy which it is happy to lend charitable or voluntary organisations for their own fund-raising
All requests for help are looked at sympathetically by the committee, which meets once a month.
Supporting Hydrotherapy for Members of Parkinsons UK. Canterbury Branch
The Rotary Club of Canterbury has had a long association with the Canterbury Branch of Parkinsons Uk. Within the last few years we have supported the important hydrotherapy which is organised by Beatrice Shire ( Vice Chairman) and which is so highly regarded by members.
Another strand of our support has covered the cost of hiring a room with parking and wheelchair access for the musical therapy enjoyed by many members who sing in the Skylarks choir.
Past President Harry Cragg attended the Carol Service and Rtn Colin McKone handed over a cheque for £500 to Richard Bond the Chairman of the Canterbury Branch.
In thanking the Rotary Club for the support, Richard said,
"Your generous donation will be used to support our hydrotherapy sessions during 2016. This service is much appreciated by the users, as it helps to significantly improve their mobility, and as we now need both a physiotherapist and an assistant present at every session, the required subsidy from the Branch has increased. Your contribution means that we can continue to provide the service at a small or no cost, to those who the benefit the most from it."
"Once again, may I thank the on behalf of the branch and assure that the funds will be put to very good use."
David Barton
Chairman
Club Members can log in and read Community Service Minutes HERE.