Retired pension specialist, Robert Yonge, is the new President of the Rotary Club of Canterbury. He took over from last year's president, Richard Kemball-Cook at the club's annual hand-over meeting last Tuesday (6th July).
Robert, 68, from Herne Bay, is the former Director of Pensions for the multi-national company, De La Rue, and becomes the 89th president of the club which was chartered (founded) in 1922.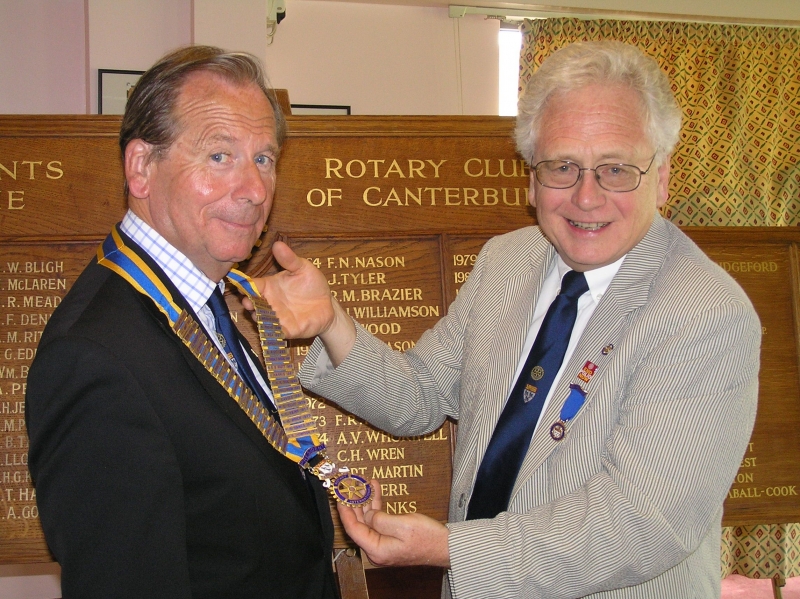 Robert Yong (left) receives the Presidential chain of office
from outgoing president, Richard Kembal-Cook

Robert says his aims for the next twelve months are for the club to continue its successful fund-raising programme whilst having fun and fellowship in the process. One objective Robert's set himself for his Presidential Year is to focus the Club's practical and financial support on local community projects.
He said: "The Rotary Club of Canterbury has an excellent track record in fund-raising and I'm looking forward to the Club being able to support specific community projects throughout the Canterbury area. Service in the community is very important to our Club." He added: "One particular initiative I will be promoting will be a Prostate Cancer Awareness Day. This terrible disease is a big killer but it need not be if men were better informed. I hope that in some small way we will be able to improve the local level of information."
Robert Yonge's financial background has made him only too aware of the pressure the current financial crisis has placed on peoples' incomes and pensions. He says he's determined to ensure that the cost of Rotary to its members is both affordable and fun. He said: "Our Club takes its Rotary very seriously, however we never forget that all our members are volunteers so we do our very best to have a lot of fun so as to ensure we enjoy our Rotary and do some good for society."
Away from Rotary, Robert is an avid railway modeller and travels widely with his wife Jenny, and when at home he has two grand-children and a dog to keep him occupied. A keen sportsman, Robert confesses to doing more spectating than participating these days and - in his own words - describes himself as, "a keen but poor golfer".