The search is on for the 2011 Top Choir Kent. After a terrific inaugural competition earlier this year, the organisers are promising next April's contest will be even better.
This prestige competition – which is organised by the Rotary Club of Canterbury and is inspired by the BBC's Last Choir Standing series - is open to amateur choirs of all ages based in Kent, the Medway Authority and the London Boroughs of "Old Kent".
The grand finale will be on 16 April 2011 at the Shirley Hall in Canterbury in front of an audience of enthusiastic supporters. Eight short-listed choirs will battle it out before an acclaimed panel of judges headed by Dr David Flood, Organist and Master of Choristers at Canterbury Cathedral. Amongst others, Dr Flood will be joined by Susan Wanless, Director of Music at the University of Kent.
The winners will receive the Top Choir Kent Trophy as well as being given a unique opportunity to showcase their talents at the Canterbury Festival in October 2011. Additionally each of the eight choirs will receive a cash prize for making it to the final.
Robert Yonge, President of the Rotary Club of Canterbury said: "This is a fine example of Rotary working with the community to produce an exciting event whilst at the same time raising money for charity." He added: "The 2010 final, earlier this year, generated more than five-thousand-pounds for Rotary charities - a large amount of which has already been spent in the local community."
Rosie Turner, Director of the Canterbury Festival is equally excited. She said: "The standard of the 2010 competition was fantastic. The winners, Green Street Blues, from Sevenoaks, have been rewarded with a performance in this year's Canterbury Festival with the a cappella group The Magnets. I'm sure we will find an equally exciting choir from the 2011 competition who will get the chance to perform in next year's Festival."
Belmont International Insurance Brokers Ltd, from Sevenoaks, is the event sponsor. Barrie Etchells, Founder and Managing Director of Belmont said: "No matter how good you are at what you do, and we are, it is all too easy for business to become routine. That is what makes supporting something different, uplifting and valuable such a pleasure." He added: "A choir in good voice is such a joy and it is our pleasure to be supporting Top Choir Kent 2011."
BBC Radio Kent is the competition's media partner and will be broadcasting selected entries on the Sunday Programme with Martin Buchanan throughout the winter and the station will record the final next April for subsequent transmission.
Choirs are encouraged to get their entries in well before the deadline of 31st January 2011 to stand a better chance of being heard on the radio. Will Roffey, BBC Radio Kent's Assistant Editor is delighted to be involved. He said: "Singing in choirs is one of the nation's favourite pastimes and we're looking forward to bringing some of the best local performances to audiences across the county."
The closing date for entries is 31st January 2011. Full details, entry forms and competition rules can be found at: http://www.topchoirkent.org
Rotary charities both locally and internationally will benefit from the funds raised.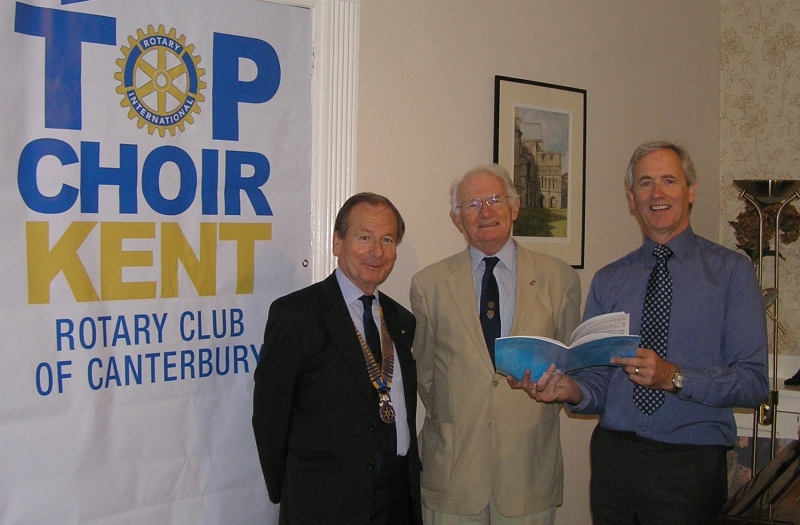 From left: Robert Yonge, President, Rotary Club of Canterbury; John Harris, Top Choir Kent Competition Director; Dr David Flood, Top Choir Kent Chairman of Judges and Organist and Master of Choristers at Canterbury Cathedral.

Notes for Editors
Further details, full Top Choir Kent competition rules and entry forms can be found online at: www.topchoirkent.org
Ends