The Rotary Club of Canterbury (UK)
Welcome to the website of the Rotary Club of Canterbury, Kent, England. We were chartered in 1922, which makes us one of the oldest clubs in Great Britain (Club Number 70 in RIBI - No 1237 in RI). Despite our long history we remain a vibrant and active club with a membership of more than sixty-five local people.
2016 Duck Race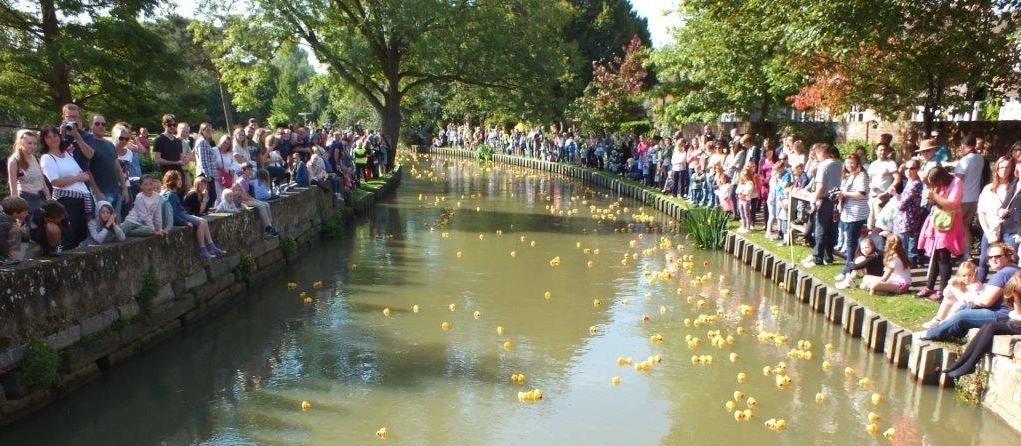 Our last fantastic Duck Race (pictured above) was on Sunday 20th September 2015. More pictures of last year's race HERE.

This year's Duck Race takes place on Sunday 18th September at 11:00 am in Westgate Gardens. We will be selling duck numbers to the public as follows:

Sat 23rd and Sun 24th July at Morrisons Supermarket
Sat 6th August at Asda Supermarket

Sat 27th August - pitch outside M and S in High St

Sat 3rd September - pitch in Whitefriars
Facebook (click Rotary Club of Canterbury UK below)
Twitter
New Members
If you would like to consider becoming a member of the Rotary Club of Canterbury click this link - or look under the Contact heading of the main menu.
Visiting Rotarians
If you are a visiting Rotarian and would like to attend one of our meetings, click the relevant link below:
If there are 5 Tuesdays in the month, varying arrangements apply, so please visit the Club Programme under the News tab on our webpages, to be sure.