The Rotary Club of Canterbury (UK)
Welcome to the website of the Rotary Club of Canterbury, Kent, England. We were chartered in 1922, which makes us one of the oldest clubs in Great Britain (Club Number 70 in RIBI - No 1237 in RI). Despite our long history we remain a vibrant and active club with a membership of more than sixty-five local people.
2016 Duck Race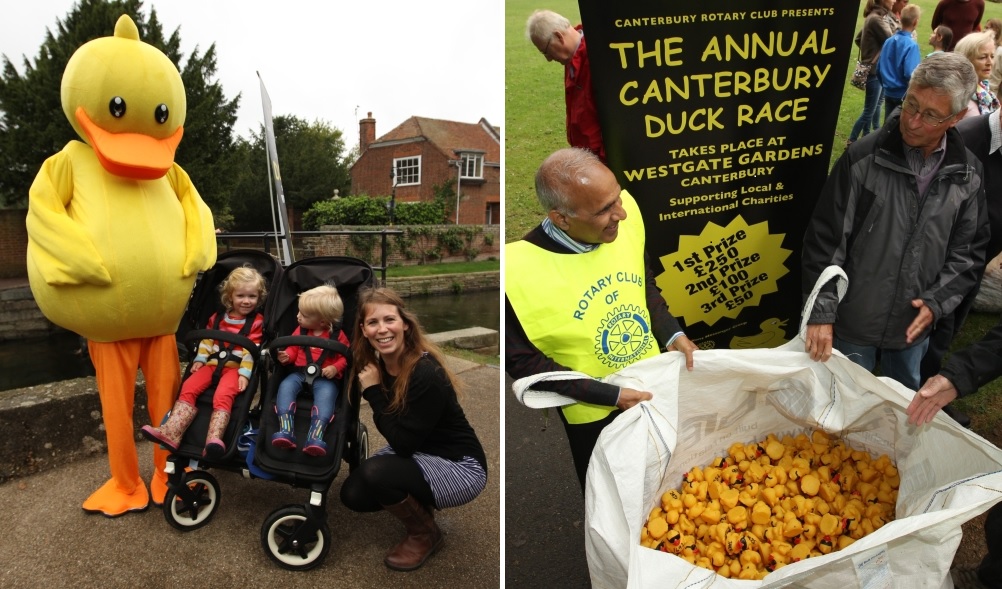 ***For a Report with pictures click HERE ***

More than 3,000 people 'bought' a duck number in the Rotary Club of Canterbury Duck Race 2016 that took place on Sunday 18th September in Westgate Gardens, sponsored by Gardner Croft LLP Solicitors. First Prize= £250, Second Prize= £100, Third Prize= £50.


The prizewinners were:
Winner - Samuel Cordell (Duck No 2115)

Second - Carol Skinner (Duck No 162)

Third - Alan Newton (Duck No 576 - donated his prize to the Club)
Corporate Race - Joint Winners:
Fire Protection Online (Red Duck No 74)

Canterbury Auction Galleries (Red Duck No 45)
The Corporate Prize of six bottles of Champagne was kindly provided by ABC Health & Safety Ltd.
A CHARITY BOXING DINNER
Friday 27th January 2017
At the Westgate Hall, CT1 2BT
Black Tie Dinner Tickets for 6:30 PM - £50. Tables of ten can be booked.


Money raised will go towards supporting the Boxing Club at the Prince of Wales Youth Club in Canterbury.
Facebook (click Rotary Club of Canterbury UK below)
Twitter
New Members
If you would like to consider becoming a member of the Rotary Club of Canterbury click this link - or look under the Contact heading of the main menu.
Visiting Rotarians
If you are a visiting Rotarian and would like to attend one of our meetings, click the relevant link below:
If there are 5 Tuesdays in the month, varying arrangements apply, so please visit the Club Programme under the News tab on our webpages, to be sure.