Schoolchildren impressed judges with their innovative inventions at an annual competition at the University of Kent. Pupils from Simon Langton Grammar School for Boys and St Edmund's School in Canterbury and Queen Elizabeth's Grammar School in Faversham entered the Rotary Innovation Competition hosted by the Canterbury Rotary Club and Kent Innovation & Enterprise at the University.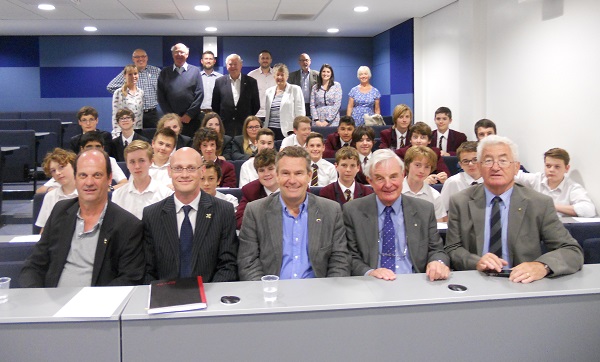 Left to Right: Gary Robinson, Marcus Wright, Christian Wilse, Brian Dobinson and Peter Hermitage All photos by Nerissa Blower

Marcus Wright, Enterprise Manager and Gary Robinson, Senior Commercialisation Manager from the University (as well as a Canterbury Sunrise RC member) formed the judging panel with Robert Boyd Howell, former President of the Rotary Club of Canterbury and Christian Wilse of Canterbury Forest of Blean Rotary Club.

The competition was supported by all three of the City's Rotary Clubs together with the Kentish Gazette, with the prizes being donated by the Rotary Club of Canterbury and presented by Peter Hermitage, its 2014-2015 President. Pupils were asked to think up ideas which are practical, innovative and capable of giving the greatest improvement to life. They submitted their ideas to the judges in advance and finalists were invited to the University on Wednesday to present their ideas in front of an audience and the judging panel. After an 'X Factor' style vote from pupils, the judges gathered to make their decision.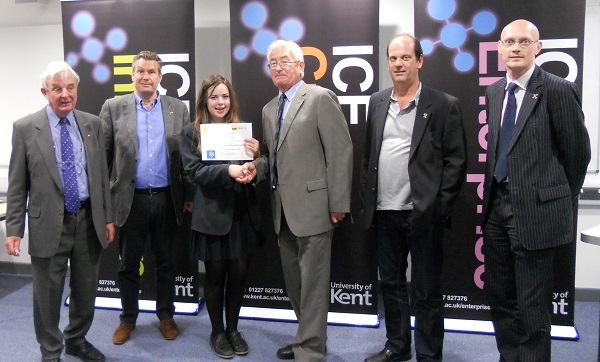 Anna Blandford (above) from Queen Elizabeth's Grammar School was revealed as the winner for her 'Kuti Cube' idea and received a £300 cheque donated by the Rotary Club. Anna's idea, 'Kuti Cube' is a toy storage device targeted at young children to encourage them to tidy away their playthings. The cubes would be made of durable, brightly coloured plastic and would flash and make noise until toys are tidied back into the boxes.

The pupil got her inspiration for the innovative tidying solution after speaking to friends' parents and conducting research. Anna, 14, was delighted to be chosen as the winner. She said: 'I don't feel like this has happened, I feel very surprised!'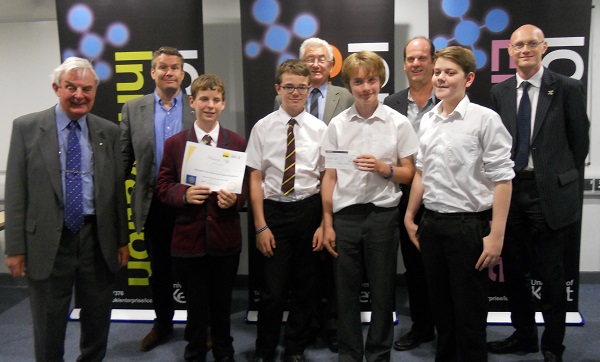 Runners up were Simon Langton pupils Tom Jefferies, Joe McInally, Jack Watts and Sam Pritchard (above) who pitched their idea for a teeth and gum cleaning device aimed at children and teenagers. They received a total of £100 for their idea.


more of the young finalists

Elected member of The Rotary Club of Canterbury Brian Dobinson said: 'This year there were as twice as many entries as last year so it does indicate that there is an interest in young people to do something new. All the entries were very interesting and it showed these young people have worked hard at putting their ideas forward.'

If you are inspired by this story and would like to work with the University of Kent, please email enterprise@kent.ac.uk or phone 01227 816032.