PRESS RELEASE
26/01/2012
Local City of Canterbury Rhythmic Gymnast, Keziah Gore got a much needed boost to her training with the support of both the Rotary Club of Canterbury and the Eastbridge Hospital Master's Fund *. Each of the charities awarded Kezi a grant of £500 in her pursuit of getting to the Olympic Games. She is one of seven athletes from the Canterbury area hoping to make it to the Olympic or Paralympic Games this year. She is British number 2 in Rhythmic Gymnastics and unless there is an injury will go to the Games as team GB's first reserve.
The grants by both groups were awarded to Kezi, who is a pupil at St Anselm's School where she also trains, as a means of encouragement in her pursuit of excellence. They felt that Kezi's dedication to the sport was an inspiration to other young people locally and should be rewarded. Unlike some athletes heading to the London Olympics, Kezi has had to rely on her parents to fund her competition schedule, set by British Gymnastics but without any financial support from the governing body. British Gymnastics governs both the artistic and rhythmic sections of the sport but only supports athletes financially within the artistic section. This is due to the higher profile of artistic gymnastics and the sheer numbers that take part in that section of the sport. Rhythmic gymnasts from a local level all the way to the very top are left to find their own funding to compete and train.
John Hill, Chairman of the Rotary Club's Community Service Committee, said "It was a delight to finally meet Kezi and see her in action at St Anselm's after we agreed as a committee to support her financially. She is incredibly talented and it is so encouraging to see her and other young people putting hours into an activity without financial gain. Both the Rotary Club and Brother Austin as Master of Eastbridge Hospital felt help should be given to one of the youngest local athletes hoping to make it to the London Games in 2012.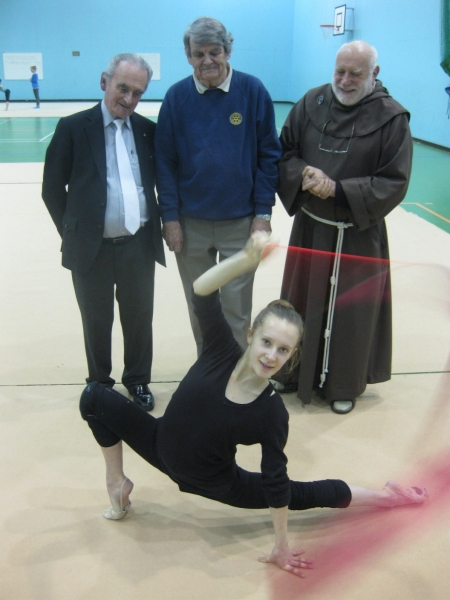 Photo from left to right: David Naumann (Vice Chairman), John Hill (Chairman) Rotary Community Services Committee - and Brother Austin (Eastbridge Hospital Master).
In front: Kezi Gore
* The Eastbridge Award Scheme, established in 1986 with the encouragement of the then Archbishop of Canterbury, offers financial support both to young people (aged 14-19) and young adults (aged 19-25) who wish to undertake a project which will challenge themselves and improve the lives of others.