We are very excited to be launching our crowdfunding appeal for THE POINT - a unique drinking water project that we believe will reduce plastic pollution, provide free water to Canterbury's visitors and help revitalise the City centre.
Thanks to the generosity and support of a number of individuals and organisations, including Canterbury City Council, the Club has done an amazing job in getting appropriate permissions and raising funds to develop and build "THE POINT" – a carved stone column hosting a drinking water bottle filling station that will sit in the heart of Canterbury.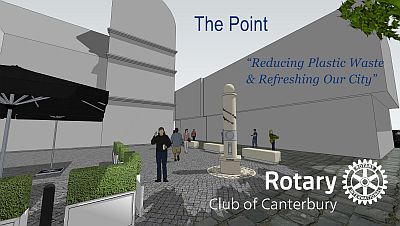 Planned as a gift to the City to mark the club's Centenary, THE POINT will help save millions of plastic bottles from going into waste, provide free water to visitors to Canterbury (and the homeless), and help revitalise the City centre by providing a new tourist attraction. Through Rotary's global network, we also hope THE POINT will encourage others in the UK and around the world to do something similar.
We're now only £15,000 away from our target; to attain this, we've launched our "What's the Point?" crowdfunding appeal with an engaging "What's the Point?" video.
If you want to be part of this exciting, unique and long-lasting project, please donate to the appeal at https://gofund.me/525008cb.
All donations are welcome, big or small – although, as our President Tony Loughran says, "if 750 people donated £20 each, we'd hit the target right away!"
Video: Our "What's the Point?" appeal video. Video credit: Rotary Club of Canterbury. Picture credits: Rotary Club of Canterbury, Pixabay, James Clague Architects.